Michigan's Quiet Construction Crisis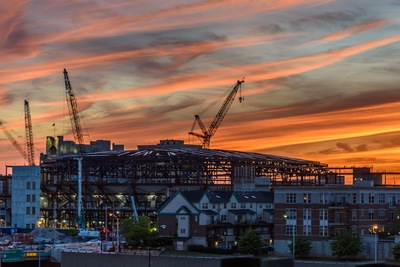 Image courtesy of: wikimedia commons
The paint on Detroit's Little Caesar's Arena is barely dry, but the dust from its construction definitely has not settled, and with the amount of money involved in this project and related projects that are coming down the line, controversy might be swirling for a while to come.
The big question is, what happened to all the Detroit workers the project was supposed to employ?
When Olympia Development and all their contractors made the deal with the Detroit Downtown Development Authority, a lot of ink, words, and money was thrown at the problem of putting a chunk of Detroit's skilled construction workforce back to work. One of the key provisions to the labor agreement between the parties was that in return for a lot of current and future tax dollars, contractors would use at least 51% skilled Detroit construction workers in the project. Sadly, that number never materialized. While a few contractors hit their target mark, many more did not. According to the Detroit News in an article published in August 2017, after the two years between April 2015 and March 2017, the total number of hours logged by Detroit workers on the project was only about 27%. Contractors working on the project were slapped with about $3 million in fines from failing to hit their mark. So the problem was the contracting companies, right? Well, not so fast. The answer is quite a bit more complex than that, and in some ways, it was a lot simpler too.
Fact: The entire state of Michigan has been losing skilled construction workers for more than 10 years.
There are multiple reasons for the loss of workers in Michigan, but a short list of causes will include citizens moving from the area during the recession to find a job elsewhere, and a dwindling pool of skilled construction workers for reasons that are affecting the trades all over our nation. Let's look at a couple of those factors.
One of the primary reasons for this shortage is that over the last few decades, national emphasis has been pulled away from young workers entering the workforce in construction related trades. Instead of working with their hands, young workers have been encouraged to earn a living with their minds. There's an old saying that goes, "It's not good, it's not bad. It just is what it is."
As this national trend began to grow, high school level vocational programs were de-funded and the funding went into finding other avenues for those entering the workforce, such as computer and technology based vocational programs. Another factor that might have made a bit of difference in the number of available workers for these big projects is that nationally, union memberships have been on the decline for at least 25 years. They are literally half of what they were in 1983. For Michigan, the numbers are not as low, holding in the 15% range. But there may be a growing perception that unions have failed to change with the times and possibly even outlived their usefulness.
As far as Detroit goes, there have been some aggressive educational and training programs aimed directly at bringing workers into the force, training them, and retaining them, which is laudable, and in fact this was addressed in the Little Caesar's Arena project. But there's also a background question that should be asked here, and that is why didn't anyone see that these contracting companies might never be able to find those lofty numbers of local workers? While it's a nice thing that the money they paid in fines (actually properly referred to as "contributions") went into a training fund for local workers, who approved this labor agreement in the first place, and just as importantly, why? The dwindling number of skilled construction workers has been an issue for years. So why would the Downtown Development Authority and these contractors have made this part of the agreement? The obvious "rose-colored-glasses" answer is that they were trying to make things better for everyone: the city, the workers, the taxpayers, even the people using the arena. Suspiciously though, the people that should have been most positively affected by this, the workers, came up short. One of the positive aspects about the labor agreement for the Little Caesar's Arena was that the city of Detroit actually had folks on the ground at the jobsite, checking records to see how many Detroiters were working; but wouldn't money have been more well spent by initiating training and education for newer workers while the project was still in the planning phases?
The question here isn't one of people. Michiganders have heart and they have drive. While the question may not be people, it absolutely could be the tools used by leaders who created and drove this project. Project Labor Agreements (PLAs) and Community Workforce Agreements have good aspects to them, but they are not fix-alls, and when the organizations who use them make pie-in-the-sky promises with them, or tie big money to the points of their plans, it can have unintended consequences. It also raises suspicion as it relates to how the money moves and to whom it goes. The debate about project labor agreements, or community workforce agreement or community benefits agreements, (or whatever name they are called by this week) is that oftentimes, a LOT of money changes hands for provisions that are either hard to measure or flat out unattainable. But the money has still changed hands.
These days you can't throw a rock without hitting some study done by one side or the other on the subject of project labor agreements. Studies done by state governments and private entities show that PLAs cost more money and contribute to longer project completion times. On the other hand, there have also been studies done that show PLAs increase worker diversity and enhance job safety, as well as result in shorter completion times and less money spent completing a project. Our side says 'everybody wins', their side says 'everybody loses'. To be honest it probably is a case-by-case argument. But the one thing that does happen is that yet another layer of bureaucracy and paperwork obscures the process and something inevitably falls through the cracks. Usually it's the workers or the small business contractors who suffer the most.
Contractors and skilled construction workers in Michigan have an uphill battle still ahead of them. While the economy is recovering, it's still crazy at best. National and state politics make the situation no better. The point here is that the lack of workers should have been something addressed before the Little Caesar's Arena project ever started, because once the project began, there was no way most of the contractors could find the workers they needed, and $3 million in fines didn't change that. When dealing with the subject of public works contracts and projects in Michigan, maybe the people in charge should remember that.